By now, many of us have seen the Netflix documentary, The Social Dilemma which highlights the implications and effects that data collection can have on society. Facebook was the main focus in this documentary and this week, they have announced changes to the privacy policy of the messaging app, WhatsApp, which they have recently taken over ownership of.  So, what does this mean for our data?
"As part of the Facebook family of companies, WhatsApp receives information from, and shares information with, this family of companies," the new privacy policy states.
Currently, this will not include data within messages, as end-to-end encryption will remain in place on all conversations. Affected data will be contact information, images, contacts, and diagnostic data. These changes will not affect countries within the EU, and for now, this includes the UK, but now that Brexit has gone through, Facebook is legally allowed to go back on that decision at any time.
Users will soon receive a pop-up asking them to agree to the new Terms and Conditions, failure to agree before 8th February will mean the app will non longer work for the user.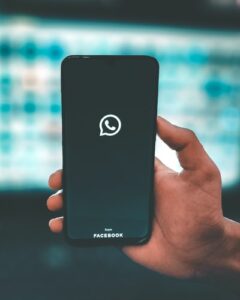 Why are they doing this?
The main reason is to include a fast payment system across the whole of the Facebook umbrella, similar to the Chinese app WeChat, which is now used for many payment transactions, as well as being the leading social media and messaging site in China. (Perhaps mainly due to most others being banned.)
What are my options?
Users can of course agree to these changes and carry on as normal, but many are opting to swap to alternative messaging apps such as Telegram and Signal.
Telegram is a Russian-owned app, already very popular in many parts of the world. Its main benefit over WhatsApp is that it allows for large files to be transferred, without the need for compression. Telegram users also receive notifications for screenshots taken and the secret chat cannot be forwarded.
'Secret Chats' are only accessible by those within the group. The Channel creator can make decisions on which users can post and who can view them. The end-to-end encryption chat feature allows users to set a timer on messages to self-destruct after a specified time.
It is also possible to have two Telegram accounts open at once within the app, similar to having two Instagram accounts that you can swap between. This is helpful if you have a business number and a private number and you want to be able to access both from one device.
The main downside is that Telegram is not as well-known as WhatsApp. WhatsApp currently boasts 1.6 billion active users compared to Telegram's reported 200 million monthly active users. This makes it difficult to use as both users will of course need to have the app.
While both apps offer voice calls, Telegram does not currently have video call options, which is a popular feature on WhatsApp.
If message security is your primary concern, then Signal is the app for you. However, in terms of user experience and other features, the app is a little behind there.
Many people may feel that this will just mean another app to have to check in the ever-growing list, but if data sharing is a concern of yours, it may be time to disable WhatsApp and make the move to Telegram.