Hospitality bosses to take reopening case to the High Court after government misses data deadline
Earlier this week, night-time economy adviser for Greater Manchester, Sacha Lord wrote to the prime minister threatening to go to the court for judicial review if the government does not allow pubs and restaurants to open fully at the same time as non-essential shops in April. 
Supported by Hugh Osmond, founder of Punch Taverns and former director of Pizza Express, Lord argued that 'transmission is plainly higher in non-essential shops,' and said he would 'pursue legal action if the government did not provide data to the contrary.' 
The deadline Lord and his team set for the government to respond was on Wednesday 17th March. They asked for 'scientific evidence' to justify why the sector isn't being allowed to open on April 12th alongside non-essential stores. 
If the government's roadmap is supported and driven by science, surely they should be able to provide this evidence to justify their decisions? 
On Wednesday however, Lord tweeted, "We've just received the Government's response. They have FAILED to introduce any new evidence as to why indoor hospitality cannot open the same day as non-essential retail. We'll now be working through the night to take our case to the High Court for a Judicial Review."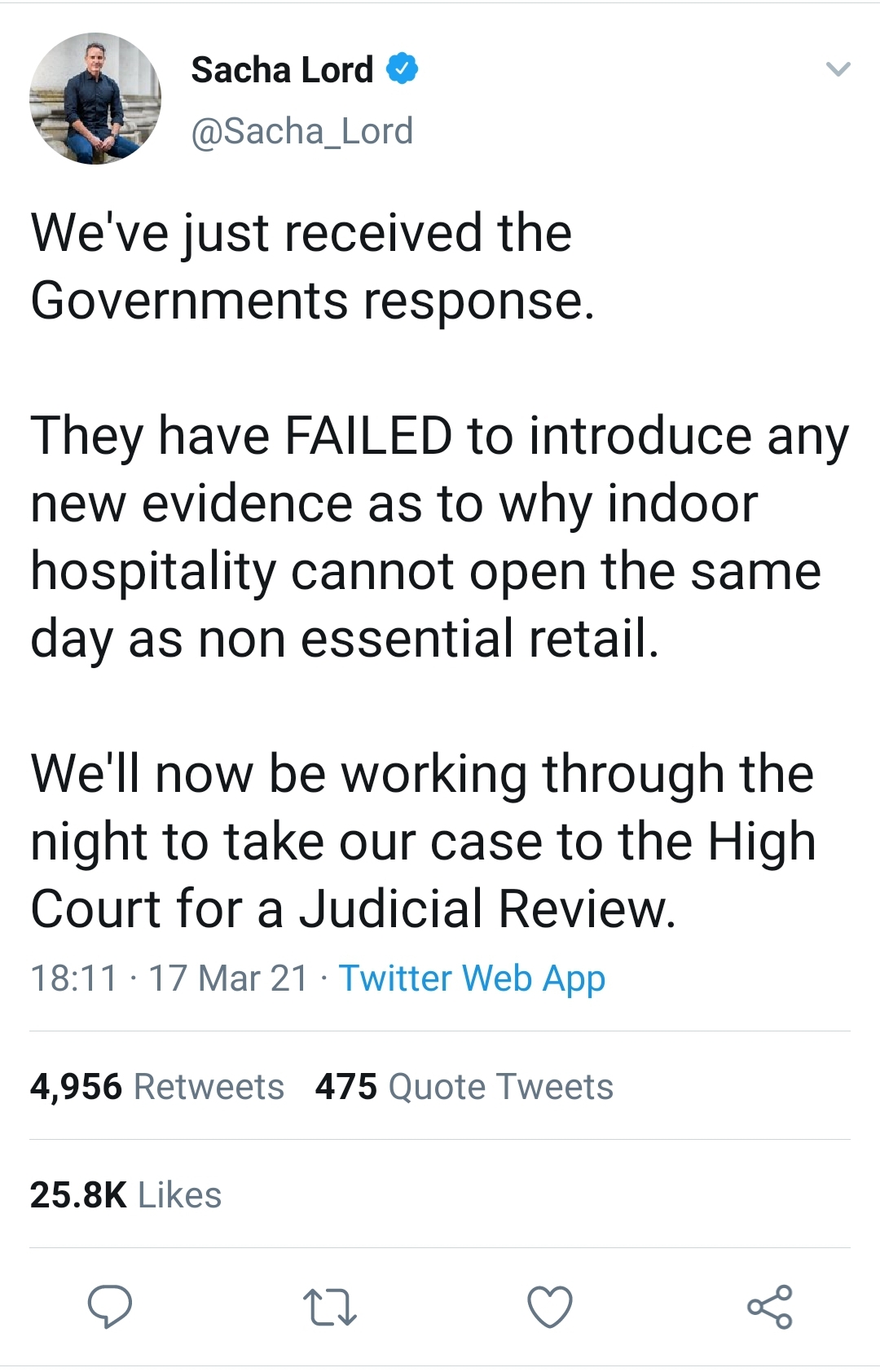 Previously, Lord took the Government to court over the 'substantial meal' rule – and won. He described it as a 'landmark victory for the hospitality industry', which has faced some of the toughest restrictions of any sector since the pandemic began.
As a big name in the industry, he is using his position to question the government's decisions which have such a wide impact on businesses and people's livelihoods. He is essentially arguing that it is safer in a licensed, regulated hospitality venue, with measures in place, than it is on the busy high streets. 
Outdoor hospitality can reopen on 12th April with indoor hospitality having to wait until the 17th May to reopen. This delay in fully reopening hospitality, has been estimated to cost the sector £7 billion over the five weeks. With shocking figures like this, Sacha Lord's challenge of the government is critical.  
But perhaps it is also necessary to look at it from the other side. It has been a year of life in and out of lockdown, so perhaps we should remain patient, follow the roadmap and ensure that this is the final time hospitality will ever have to 're-open.' 
The latest update from the government however, is worrying. The Justice Secretary, Robert Buckland has announced plans to change the rules of judicial review.
Judicial review helps the public hold power to account because it allows any of us to ask a judge to scrutinise a decision by a minister or public body, where we have an arguable case that they've acted unlawfully.
Taking this away would mean that the public risk losing the power to interrogate government decisions. In response to this latest news, Sacha Lord has tweeted: 
'After a very long day with legals, the full team are meeting again at 8am … and we're ready to carry on pushing for what we believe in. Some would think they were rattled.'
It seems the hospitality industry has had enough of being the target of government regulations and it is time to question the decisions that have made, and continue to make, such detrimental impacts on businesses and individuals.