Two-step all the way to the moon this NYE.
Pick a charity, dust off your rave outfit, and log in to what is sure to be the biggest virtual rave ever.
Rave to the Moon is a totally free online party, and the world's very first Rave-a-thon, aiming to stomp the distance to the moon (577M steps…approximately) with the collective steps of ravers across the world. Similar to any other sponsored event, ravers will be able to select their own charity and ask for sponsorship from friends and family.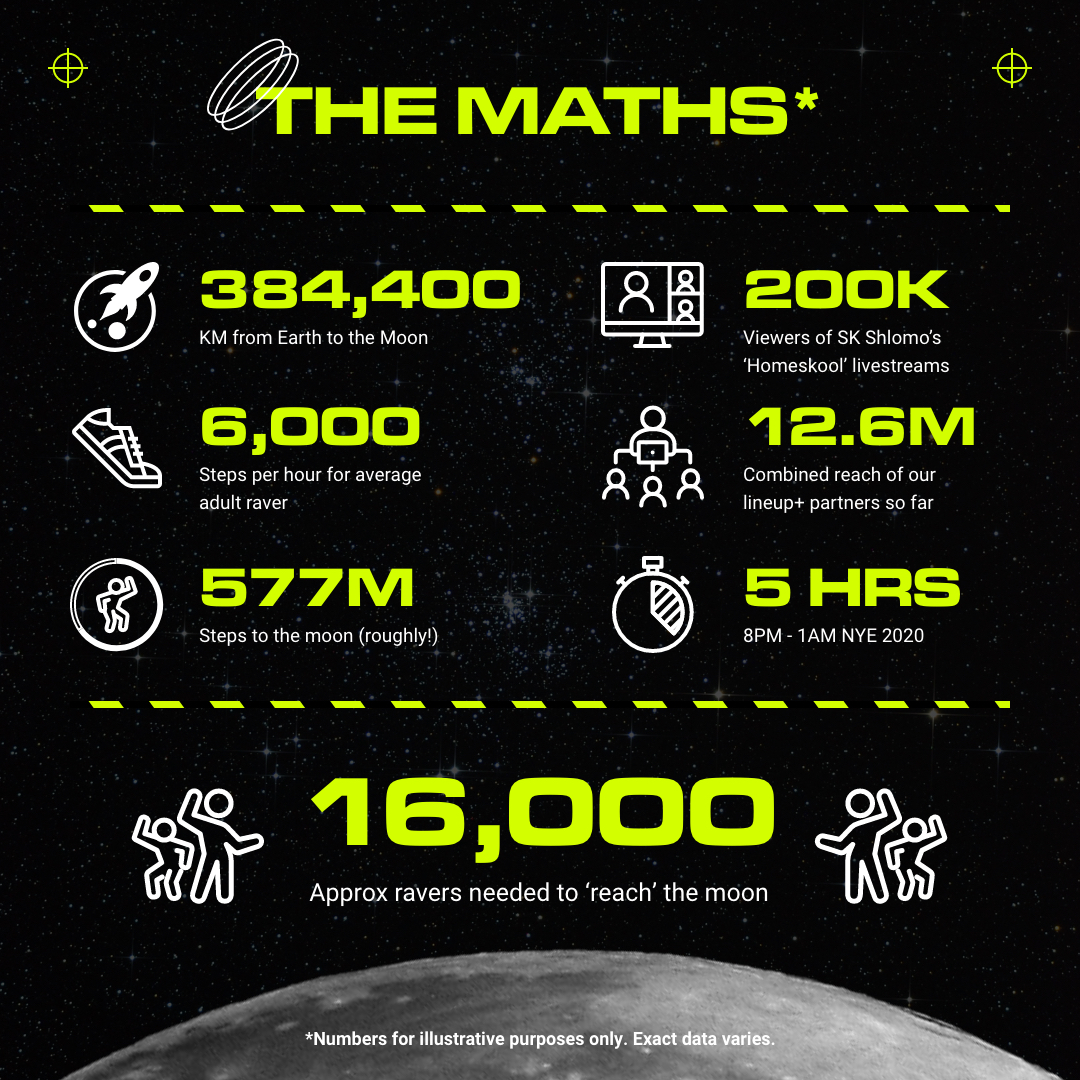 The event has been created by world-record-breaking beatboxer and festival mainstage staple, SK Shlomo, following his string of award-winning digital raves. Electrifying virtual DJ sets will be beamed live into homes worldwide from global stars including Rob Da Bank, Mr Scruff, Arielle Free, Ellie Prohan, DJ Yoda, Basement Jaxx' Felix Buxton and Vula, Beardyman, Heartless Crew, and many more.
Posh Cockney is delighted to be partnering with Rave to the Moon and supporting this fantastic initiative. We will be live streaming the event directly to our social media platforms and cannot wait to join the party.
2020 has seen thousands of events canceled all around the world, this not only means that many people have lost their jobs, but incredibly important charities have lost a huge amount of donations. This virtual event aims to start putting money back into the pockets of those that need it most, whilst throwing an incredible party for everyone to enjoy.
With collective steps being counted in real-time using the free app Sweatcoin, revelers can rave at home and battle for the top spot in the live leader board to win big prizes.
Want to sign up to the event? Head to http://ravetothemoon.tv to sign up now!
#RaveToTheMoon #RaveFromHome #NewYearsEve #Charity #Rave #FreeEvents #Win #Prizes #SaveNightlife #LetUsDance #RaveReady #culturematters #ACEsupported