What is TikTok?
Boasting over 800 million global active users, Chinese-born mobile app TikTok has experienced exponential growth since its initial launch in 2016. Advertised as a video-sharing platform for user-generated content, TikTok allows users to create short-form videos, ranging from fifteen seconds to three minutes, which combine clips with popular music, filters and text. 
On average, users spend roughly an hour a day rapidly consuming content via their 'For You Page', the app's personalised feed which caters to users' viewing desires.
Is it just for Teenagers?
Indeed, while the name 'TikTok' may initially prompt thoughts of dancing teenagers and lip-syncing videos, it has now become the hub of a much wider range of entertaining content, not far from stealing YouTube's crown as the superior video-sharing platform. Popular video topics on the app include comedy, fitness, fashion, DIY and pranks, targeting a diverse variety of audiences.
Millions of TikTok users take advantage of the platform's potential for virality, displaying their talents or skills in hope of achieving stardom. So, why shouldn't businesses do the same? 
Having been labelled the fastest growing social media platform of all time, marketers are attracted to TikTok for its ability to reach and engage huge audiences of potential consumers. However, while the app is still relatively young, many business owners remain apprehensive about posting content on the platform. 
So, why market your business on TikTok?
It holds the

potential to go viral

. Creating viral content on TikTok can be the most effective way of keeping your brand at the forefront of consumers' minds. Thanks to TikTok's smart algorithm, users with zero followers on the app can skyrocket to fame over night after posting just one video. Unsurprisingly, the same goes for brands. As long as your content is carefully planned to appeal to your audience, there is no reason why it shouldn't spread like wildfire. TikTok is built for virality, with formats like hashtag challenges constantly promoting new waves of trends. Many companies have achieved record-breaking engagement levels on the app by generating their own branded hashtag challenges and reaching out to well-known "TikTokers" to participate. 
It is extremely influential. Ever heard of Old Town Road by Lil Nas X? Or Driver's Licence by Olivia Rodrigo? You most likely have because both songs were huge hits, charting at number one for significant periods of time. Why? TikTok popularised them through trends and challenges, leading to a more mainstream, cultural impact. Big trends on TikTok rarely linger within the periphery of the app, with most social media memes now originating on one's For You Page. If your branded hashtag challenge goes viral on TikTok, it is likely to catch the attention of consumers on Instagram, Twitter and Facebook, exposing an even larger audience to your brand.
It can

humanise your brand

. While channels like Instagram might show off the flashier side of your business, TikTok's humorous, creative environment enables consumers to witness your brand's more human side. Participating in viral trends and challenges while also exhibiting humorous qualities can effortlessly highlight your brand's personality and voice, rather than leaving this masked by its corporate identity. Your brand simply needs to weave itself into TikTok's online culture, defined by fellow creators.
It's

accessible

. Expensive cameras, studio lighting and a glam team are unheard of among viral creators on TikTok. In fact, some of the most viewed TikToks have been filmed in creators' bedrooms, back gardens, or city centres, all using a smartphone. For businesses aiming to adapt to this landscape, they must follow suit, as encouraged by TikTok itself: 'Don't make ads, make TikToks'. Rather than 'thinking like advertisers', brands are persuaded to 'behave like creators', taking a step back from more expensive marketing tactics. Essentially, the only ingredients for achieving TikTok success are creativity and imagination.

 
Which brands are doing it best?
Samsung – @samsung
Samsung saw record-breaking numbers with their #VideoSnapChallenge earlier this year. With videos including a promotional collaboration with K-Pop superstars, BTS, and contributions from well-known creators, the challenge accumulated 33 billion views across the app. How's that for exposure?
ASOS – @asos
Online fashion retailer, ASOS, know their way best around influencer collaborations on TikTok. Coining the hashtag, #asostiktakeover, the brand have been able to expand their audience significantly by working with well-known TikTok creators, such as @abbyroberts and @the.navarose (pictured below). This well-performed strategy has enhanced the brand's presence across TikTok, as well as in the minds of Gen-Z.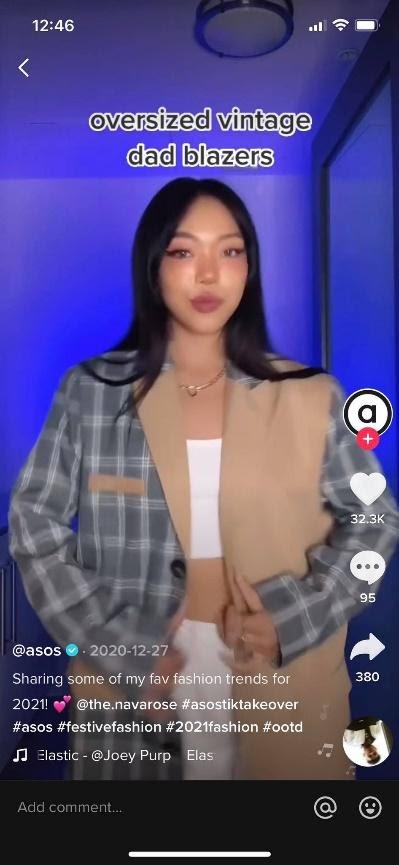 Ryanair – @ryanair 
Ryanair offers a perfect example of TikTok's unrivalled ability to humanise a brand. Prompted by the prevailing effects of the pandemic, the airline flew to TikTok in an attempt to maintain their brand awareness during the travel ban. Since then, Ryanair have achieved staggering numbers on the app through its engagement with Gen-Z humour and trending memes. The airline is no longer just a large corporation but has become a well-loved personality among young people.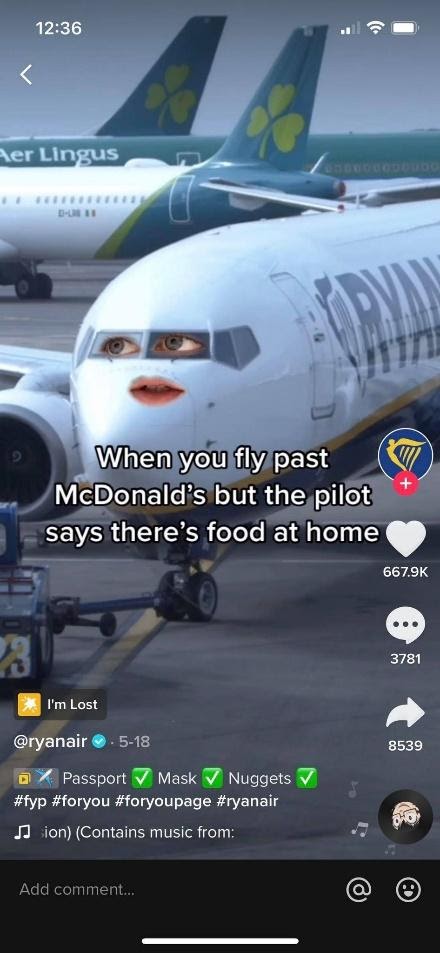 If you would like more information about how Posh Cockney can help your brand break into the world of TikTok, get in touch today.