On Sunday 2nd May, Festival Republic will be hosting an outdoor concert at Liverpool's Sefton Park that will be attended by 5,000 people. Once they are through the gates, the crowd will not be required to wear face coverings or socially distance.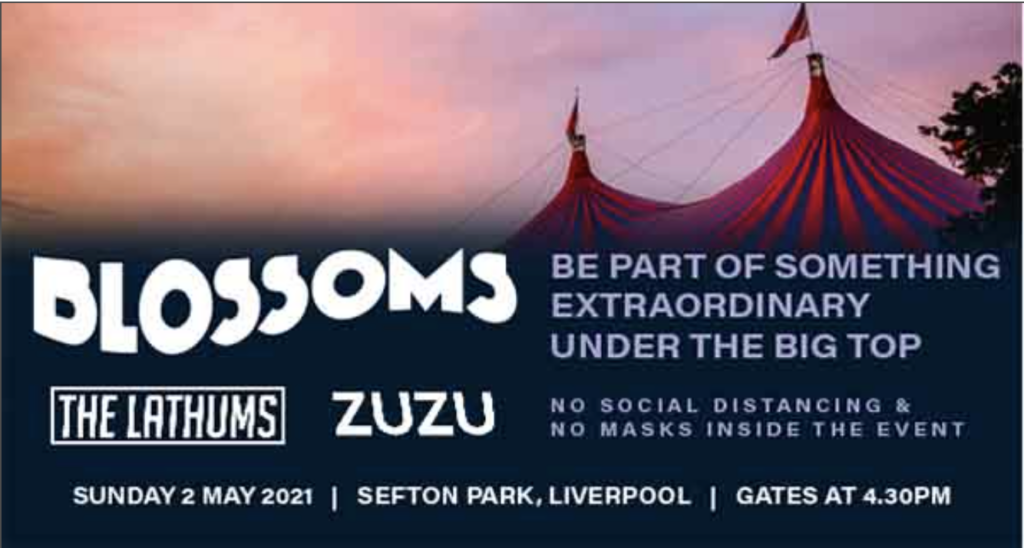 So basically, it sounds like a normal festival…where you can dance and not worry about the shame of breaking the 2m rule when you accidentally brush past a stranger…surely not? 
With tickets for the festival priced at £29.50 and artists such as the Blossoms, The Lathums and Liverpool singer-songwriter Zuzu performing, it all sounds too good to be true! 
But whilst people will definitely be enjoying themselves, the purpose of the festival is to get scientific data about how events could be permitted to safely reopen as part of the roadmap out of lockdown, commencing no earlier than June 21st. 
The Sefton Park Pilot is part of the Governments Events Research Programme which last Sunday, meant that 4,000 people were able to attend the FA Cup Semi-Final at Wembley Stadium. The programme is being run in partnership with Culture Liverpool to trial approaches to managing and mitigating transmission risks at outdoor events. 
At the festival, the crowd will be monitored by researchers and ticket holders are asked to: 
Take a lateral flow test at a local test centre 24 hours prior to entry. 

Show proof of a negative test result to gain entry to the festival. 

Take a test after the event to ensure any transmission of the virus is properly monitored and contained.

Provide contact details for NHS Test and Trace to ensure that everyone can be traced in the event of a positive test. 
The information gathered from events as part of the Research Programme will be crucial to how all venues – from major sport stadiums and theatres to wedding venues, conference centres and nightclubs – could operate safely this summer. The programme of pilots will explore how different approaches to social distancing, ventilation and testing protocols could ease opening and maximise participation.
For the events and hospitality industry this means that there will be (hopefully) clear government policies, informed by concrete scientific data, about the conditions of their re-opening. The programme's collection of scientific data will also increase public confidence in the safety of the events and hospitality industry and encourage people to return.  
Managing Director of Festival Republic, Melvin Benn says;
'This event is not about pushing vaccines or passports , we do not want to limit attendance to our events in any way. Working with the government we want to create a universal blueprint for reopening and demonstrate we can do it safely. Live music is a vital part of so many people's lives. This event is the first step in getting festivals back on track this year. It's about demonstrating our absolute commitment that we can and will open on June 21st. We want to get festival fans back at events safely this year. We all need a summer of live music.'
Over the past year the hospitality and events industry has been neglected and any guidance given has been unclear and vague. So, it is certainly exciting to see a research programme being created and implemented now, to prepare for the future and ensure that the industry is ready and raring to come back better than ever this summer.